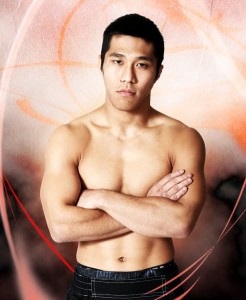 | | |
| --- | --- |
| Name: | Asen Yamamoto |
| Place of Birth: | Japan, kanagawa |
| Date of Birth: | 8/9/1996 |
| Height: | 169cm |
| Weight: | 66kg |
| Association: | GSA |
Asen Yamamoto was raised in an elite wrestling family where his grandfather is a Munchen Olympic wrestler, his mother Miyu being a multi time world champion wrestler and his aunt Seiko is a 4 time wrestling world champion. His Uncle Norifumi "Kid" Yamamoto is one of the most recognized MMA fighter in Japan to this day. He started wrestling at the age of 4, and after winning several Jr tournaments, he moved to Hungary to study wrestling. The result for is MMA debut against Kron Gracie didn't turn out in his favor, but he showed the world the tremendous amount of potential he posesses. He is looking to face another Japanese up and coming prospect and dangerous striker Kizaemon Saiga in his upcoming fight.