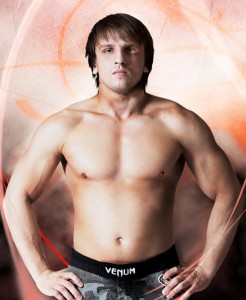 | | |
| --- | --- |
| Name: | Teodoras Aukštuolis |
| Place of Birth: | Lithuania |
| Date of Birth: | 9/11/1991 |
| Height: | 186cm |
| Weight: | 98kg |
Current BUSHIDO Europe Light heavyweight Champion. He practiced Judo since childhood and has taken many medals in National competition and is the face of Lithuanian Judo community. He has also made successful transitions in wrestling and combat sambo which shows his athleticism and talent in combat sports. His aggressiveness shows immediately after the bell rings, with his crisp, powerful striking and powerful slams. Teodoras gained many fans throughout the world due to his performance during last year's RIZIN FIGHTING WORLD GRAND-PRIX 2015 when he scored a highlight reel knockout against Bruno Cappelozza in the first round of the GP. He successfully defeated Jaideep Singh in April, and is now looking to redeem himself in this year's Grand Prix.