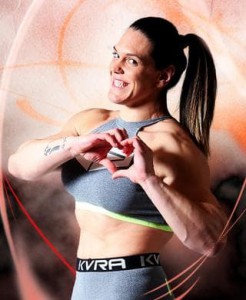 | | |
| --- | --- |
| Name: | Gabi Garcia |
| Country: | Brazil |
| Date of birth: | 11/17/1985 |
| Height: | 186cm |
| Weight: | 90kg |
| Association: | KINGS MMA / TEAM ALLIANCE |
Gabi Garcia is a highly decorated world class Jiu Jitsu practitioner, making several accomplishments as the Brazilian Jiu Jitsu World Champion, World Jiu Jitsu Champion, Abu Dhabi Combat Champion and much more, and is known as "The world's strongest female". The combination of her overwhelming physical strength and excellent technique along with the extreme popularity makes her the undeniable Queen of Jiu Jitsu. She made her highly anticipated MMA debut and faced Lei'D Tapa and even though showed some holes in her games, she managed to score a knockdown with a spinning back fist and was able to capitalize on the situation to earn herself a TKO win. Gabi is no 2-0 after defeating Anna Malkova in April, and is eager to show the world how she has been continuously evolving.