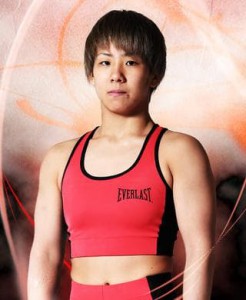 | | |
| --- | --- |
| Name: | Kanako Murata |
| Place of Birth: | Japan,Ehime |
| Date of Birth: | 10/8/1993 |
| Height | 156cm |
| Weight: | 53kg |
| Twitter: | m_r_t_k_n_k |
JOC Elite Academy 2012. Murata is the JOC (Japanese Olympic Committee) Next Symbol Athlete. She has dominated the Junior female wrestling division by winning the notable Junior Queens Cup, Junior Olympics, National Games from 2009. Murata started her martial arts background in Judo, and placed 3rd in Nationals during grade school. She looked up to wrestling Phenom Saori Yoshida during the Beijing Olympics and made her transmission to wrestling. During the Nationals held in December 2011, she faced Yoshida and was ahead in points until the very last minute. She received tons of attention by being the closet wrestler in defeating Yoshida. After graduating high school, she advanced to Nihon University, and won international competitions, Asia competitions, and Nationals. The greatest asset of Japanese wrestling community made her successful MMA debut in April, and have already competed twice since, both coming off of TKO wins. Murata will be facing her toughest opponent yet on September 25th.