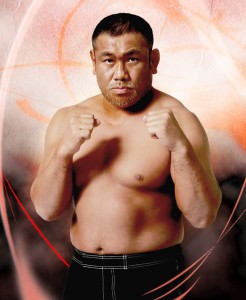 | | |
| --- | --- |
| Name: | Kazuyuki Fujita |
| Place of the Birth: | Japan,Chiba |
| Date of the Birth: | 16/10/1970 |
| Height: | 183cm |
| Weight: | 108kg |
| Association: | TEAM FUJITA |
Representing Team Fujita, Fujita practiced wrestling in high school and then won 4 consecutive titles for the University Championships. Even though his dream of participating in the Atlanta Olympic Games did not come true, he managed to leave significant accomplishments by winning the All Japan Championship 2 years in a row. In 1996 he made his debut in Pro Wrestling and starting learning under Antonio Inoki's in the year 2000. He quickly made his first appearance in PRIDE participating in the PRIDE GRANDPRIX 2000. He surprised the world by defeating Mark Kerr who was undefeated in MMA and praised to be the best heavy weight at the time. In 2003 he faced Fedor Emelianenko. Although he submitted to a choke, he shocked the fans by stunning the "Last Emperor" with a devastating right hand. Fujita is one of the very few Japanese heavy weights to compete against the world's best fighters such as Mirko Cro Cop, Wanderlei Silva, James Thompson, Alistair Overeem and on. After the PRIDE era, Fujita continued to stay active in the fight game, fighting in Sengoku, and IGF. His return in the ring didn't result in his favor in April, where he was knocked out by a rising prospect Jiri Prochazka. But that defeat did not stop this legend from aiming for the to of the world's toughest tournaments. Fujita is set to take on Sumo monster Kaido Hoovelson.