King Mo enters RIZIN tournament, Lei'D Tapa to face Gabi Garcia!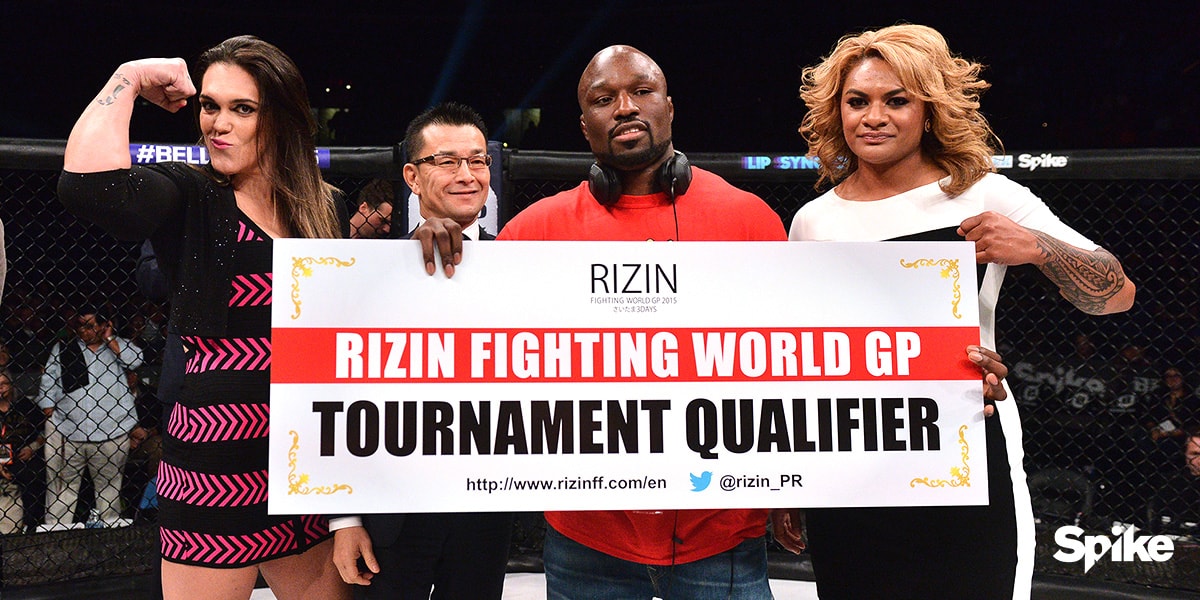 During Bellator 145, King Mo's entry to the RIZIN FIGHTING WORLD GRAND-PRIX 2015 and Gabi Garcia vs Lei'D Tapa's matchup was announced.
On November 6th, Bellator 145 – VENGEANCE was held at the Scottrade Center St. Louis, Missouri.
Right before the co-main event, RIZIN chairman Nobuyuki Sakakibara, Gabi Garcia, Lei'D Tapa and King Mo entered the cage.
Chairman Sakakibara announced that RIZIN will be aired on Spike TV, and that many big names will participate in the event on New Year's Eve. The host followed by mentioning that King Mo will be participating in the RIZIN FIGHTING WORLD GRAND-PRIX 2015 tournament representing Bellator, and the matchup between Gabi Garcia vs Lei'D Tapa.
After receiving the Tournament Qualifier board, he stated that "I am happy to be able to fight in Japan. I will become king in Japan as well". The crowd showed their support with loud cheering and applause. Gabi Garcia and Lei'D Tapa had an intense stare down and quickly got into fight mode.
During the post-fight press conference King Mo said "I am going to Japan and I am going to be the best. I am going to be the best for Japanese fans and I am going to fight hard to get that prize money.
Gabi Garcia, with a confirmed opponent, "I am glad I have a chance to fight Tapa. This is going to be a very tough fight for both of us. She is strong, but I am strong too! She is not easy, but I am ready. I am going to fight for Japan, for my family, for my soul".
Lei'D Tapa stated "I am so excited! I know it's is going to be a challenge for me. Gabi is a professional Jiu Jitsu fighter and I am a pro wrestler, we have different style. But I am training very hard with American Top Team in Florida, we training very hard to prepare for Japan, and I will do anything it takes for the win.
RIZIN Fighting Federation Chairman finished by mentioning "This is going to be an intense fight. This will be the fight that everybody will be wanting to witness. Tapa is a fighter with lots of potential, and is not a pushover fight for Gabi." Who will be entitled as the "Toughest woman"?
Bellator Official Site:http://bellator.spike.com/