November 9th press conference report – Kron Gracie vs Asen Yamamoto, battle legendary families collide!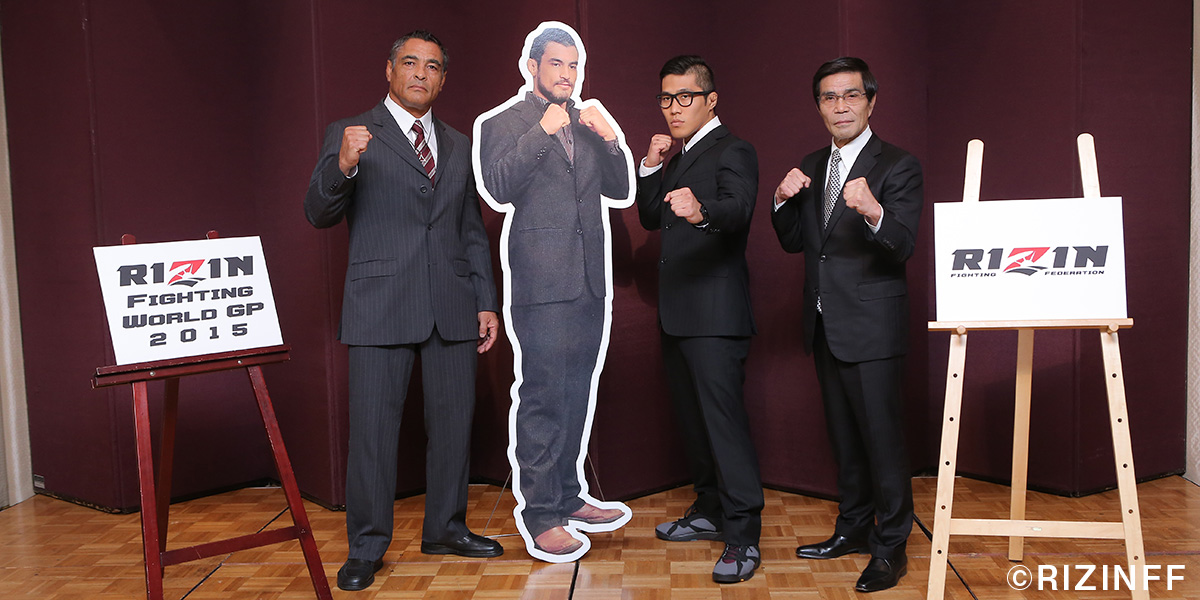 November 9th, RIZIN WORLD GRAND-PRIX 2015's special sponsor GYAO INC., official logo, and a new fight card was announced. MMA new comer Asen Yamamoto and his grandfather Ikuei Yamamoto, and Kron Gracie's father Rickson Gracie attended the press conference.
December 29th (Tue) and 31st (Thu), RIZIN WORLD GRAND GRAND-PRIX will be held at the Saitama Super Arena. Several fights have been announced with many big names, and today Rizin officials added another eye opening fight to their lineup.
Rizin chairman Nobuyuki Sakakibara appeared first and revealed the official logo for the event, also that GYAO Inc., will be sponsoring the event. He followed up by mentioning that Rizin had announced Gabi Garcia's opponent determined as Lei'D Tapa, and King Mo's tournament entry representing Bellator at theit event held in St. Louis Missouri. He added that there were many submissions for the official logo, and he will post the best designs on the website.
Flying in from his training camp in Thailand, today's main focus Asen Yamamoto appeared in front of the media after Sakakibara's opening, follwed by his grandfather, former Olympic wrestler Ikuei Yamamoto and Kron Gracie's father Rickson Gracie along with Rizin General manager Nobuhiko Takada.
"We have booked such a great fight. Korn Gracie vs Asen Yamamoto. This is a very dramatic and simple matchup for the viewers." said Takada and continued, "this fight has already created a different buzz and atmosphere that the matchups we have so far. Just imagining the outcome sends chills down my spine. of course they are fighting as induviduals, but also for their family. I want them to fight a fight where people will talk about years from now, for them, for their family and for their country. We, the Rizin team would also like to move forward in creating the future of MMA with these two.
"Spectators may just think that this is a fight between two families, but for me, I don't want to lose as a Japanese fighter, and as a fighter Asen, so my plan is to beat him up and get my hand raised." (Asen Yamamoto)
"Asen's good part is that he never backs down. Ever since he started wrestling at the age of 3 and until he became world champion, he has never backed down. He traveled to Hungary and learned European style wrestling, and the spirit as a fighter. He also grew up in an environment surrounded by the Yamato Damashi spirit. The Gracie family is also an amazing family so I believe the fight is going to be an extremely exciting fight. I will observe this fight with my own eyes." (Ikuei Yamamoto)
"I would like to thank Mr. Sakakibara for giving me, Kron and the Gracie family to participate with Rizin. And I am very happy that Akron was given an opportunity to fight Asen. Kron is training hard and is in great shape so he will bring 100% to the ring. This fight will be a fight that will determine the future of MMA. The modern MMA rules take away the Bushido Spirit from the fighters by their short rounds and point system. And the cage becomes the 3rd element and takes away from realistic fightimg situation. But Rizin will bring back the longer rounds and the ring with ropes. This will emphasize the fighters to finish which will bring back the true warrior spirit to the fighters and I am very happy for that." (Rickson Gracie)
Kron Gracie could not make it to Tokyo since he was in training camp but left a video message, "Asen is a tough wrestler, he's a young up and coming kid. Kind of like me. But the opponent really doesn't matter, because my opponent is always the same, which is my mind." after watchng the video, Asen commented "Kron is the world's top grappler and I respect him for that. But once we get in the ring there is no friendship, or anything. If he is coming to fight me with his head, I will fight with my heart. I will give him everything I have to crush him."
Lastly, Asen's mother's comment was read. "I am very surprised by this announcement. But I am sure that he decided after much thought and consideration so as a mother, my job isnto respect his decision and support him as much as possible. I hope this experience will help him in a positive way for his future. "
Another great fight was announced from Rizin. The clash between the new generation from two legendary families, who will become the new hero?