RIZIN FF ANNOUNCES DETAILS ON
WOMAN'S SUPER ATOM WEIGHT GRAND-PRIX
RENA gets Andy Nguyen for the opening round.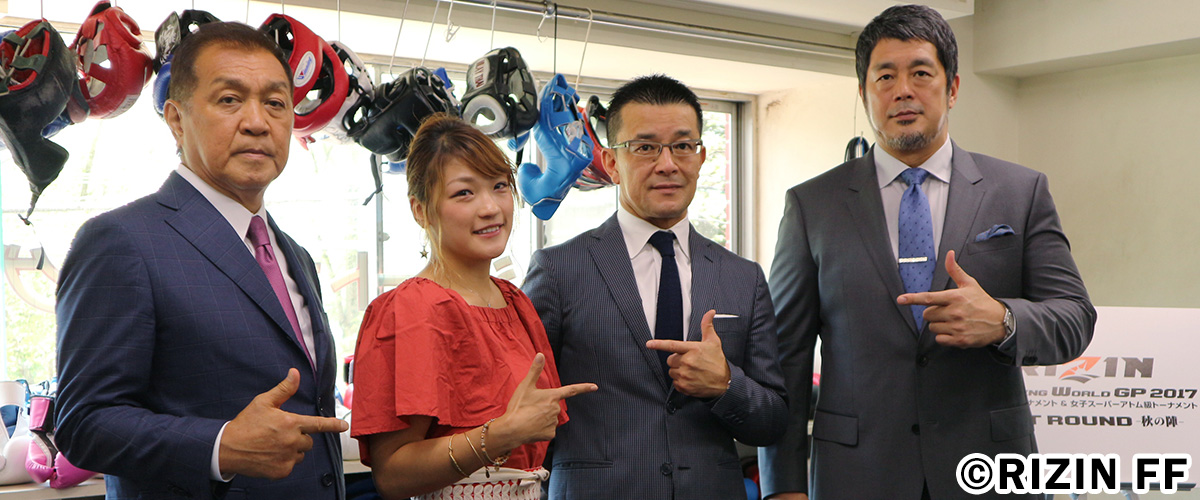 RIZIN's World GP series has become part of its staple concepts ever since their launch in 2015. King Mo was crowned the winner of the -100kg GP in 2015. Mirko Crocop won the Openweight GP last year by finishing all 4 opponents. Now in 2017, in addition to its ongoing Bantamweight GP which just kicked off on July 30th, with Kyoji Horiguchi, Takafumi Otsuka and Khalid Taha advancing to the Quarter finals held on December 29th, RIZIN FF will also be hosting their first ever woman's GP at Super Atom weight (-49kg).
TOKYO Asakusa – On August 8th 2017, RIZIN FF announced details the opponent for this GP's favorite RENA (4-0). RENA has been a standout fighter in her original background Shoot Boxing, and has raked up an impressive 35-5 record, and hasn't been defeated since she came short I a decision loss against Jessica Penne in 2011. The Shoot Boxing ace made her MMA debut on RIZIN's first evet which was held on NYE of 2015, and shocked the world with a flying arm bar finish. She has since fought 3 times, finishing all opponents in spectacular fashion. She looks to staple herself as the Queen of combat sports, by winning this tournament in dominant fashion.
Andy Nguyen (5-3), the current King of the Cage Atom weight Champion will be making her second appearance in the RIZIN ring after a fabulous performance in her promotional debut. The KOTC Champion submitted a wrestling world champion Miyuu Yamamoto (1-2) with an extremely crafty straight arm bar which earned herself a spot RIZIN's first ever woman's world GP. Nguyen is currently o a 3 fight winning streak, and is set to defend her title this weekend. Regardless of the results, Nguyen will take part in RIZIN's GP facing RENA in the opening round.
Chairman Nobuyuki Sakakibara said "We are very excited to be able to hold the first ever woman's GP, and we believe that with having the total amount of 10 million Japanese yen prize money, this is the biggest woman's tournament in the world. I hope that we could continue this for the next 5, 10 years and look back at this event and say that this was the beginning."
RENA told the media "Andy Nguyen is a good fighter, well balanced overall good fighter. But I don't see myself in any aspect. I am a much better striker, and I feel that I can hold my own against her ground game. I have been training very hard, and my goal is set beyond Andy. I want to continue my journey and want to fight the best out there. I will finish Andy and move on to December."
Andy sent in a message saying," I am honored to be the one to had RENA her first loss. She is undefeated in MMA and in Shoot Boxing. So please stay tuned, and see you all in Fukuoka."
Updated Fight Card
[Woman's Super Atom weight GP opening round]
RENA vs Andy Nguyen
Miyuu Yamamoto vs TBA
Saori Ishioka / Kanna Asakura vs TBA
TBA vs TBA
[Bantamweight GP opening round Bracket B]
Shintaro Ishiwatari vs TBA
TBA vs TBA
TBA vs TBA
[Grappling match]
Kazushi Sakuraba vs Dan Henderson