On Sunday May 6th 2018, RIZIN will be kicking off their first event in Fukuoka which will be headlined by former UFC contenders, Kyoji Horiguchi vs Ian McCall.
TOKYO – On February 14th, on Valentine 's Day, RIZIN FF announced 4 fights to its first event of the year, which features 3 of the 2017 GP winners Kyoji Horiguchi, Kanna Asakura and Tenshin Nasukawa.
Chairman Nobuyuki Sakakaibara started off the press conference by announcing that RIZIN will be numbering ever event. The year 2018 would kick off the Fukuoka event as RIZIN 10.
RIZIN 11 – July 29th Saitama Super Arena
RIZIN 12 – August 12th Aichi Gymnasium
RIZIN 13 – September 30th Saitama Super Arena
RIZIN 14 – December 31st Saitama Super Arena
RIZIN Bantamweight GP king Kyoji Horiguchi (23-2) will be facing Ian McCall (13-6-1) in a 61kg bout scheduled for three, 5minute rounds. Horiguchi is currently on an 8 fight winning streak, and has a perfect 5-0 record in RIZIN. The ATT product finished all 4 opponents to win the Bantamweight GP. McCall returned to the ring after a 3 year hiatus, where his string of bad luck continued. Uncle Creepy's return fight ended in 106 seconds due to a cut. The California Native looks to showcase his true skills by taking on the Bantamweight GP winner, which he would have faced if he had advanced in the tournament.
RIZIN's first female champion Kanna Asakura (10-2) will be taking on former King of the Cage Atom weight Champion Melissa Karagianis (3-3) in a 49kg clash. The Super Atom weight Queen went undefeated last year, and looks to extend her winning streak in 2018. The twenty year old fought 2 times in one night to capture belt by submitting 2 very accomplished strikers, RENA and Maria Oliveira. Karagianis defeated RIZIN regular Andy Nguyen to capture the KOTC Atom weight belt in November 2017.
Manel Kape (9-2) may be the fighter who made a name of himself the most in 2017. From his antics and wild celebrations to weigh in scuffles. The Angolan forced himself to be recognized in his RIZIN debut when he knocked out Erson Yamamoto with a vicious head kick. Prodigio would then call out Ian McCall and defeat him by a doctor stoppage. The former Outsider Flyweight champion Kai Asakura (9-1) made his RIZIN debut in style by knocking out Kizaemon Saiga in a fun scrap. This fight is guaranteed to deliver, not only in the ring, but also outside. Asakura has already mentioned that he would knock his opponent out if he gets touched during the weigh-ins. This fight is scheduled at a 59kg catch weight.
Wrestling Ace Kanako Murata (6-1) will be taking on China's most touted prospect Weili Zhang (16-1) at 53kgs. After making her MMA debut, Murata has had a good run in MMA until she went up a division to take on Rin Nakai. The Ehime raised wrestler had a rough 2017 with injuries and has only fought twice. Zhang is the Number 1 ranked pound for pound female fighter in China, who is currently on a whopping 16 fight win streak, and has not tasted defeat since her debut fight in 2013. The Kunlun Champion has been recognized as the top Chinese prospect for years and will now fight in Japan for the second time.
General Manager Nobuhiko Takada also announced that RIZIN 10 will be having a few kick boxing bouts, and Tomohiro Kitai from Team Dragon, and RIZIN 2017 Kickboxing tournament champion and kick boxing Phenom Tenshin Nasukawa will take part. Opponents for both fighters were not revealed at this time.
Doors open at 1:30PM with Opening Ceremony at 2:30PM on Sunday May 6th at the Fukuoka Marine Messe. International tickets can be purchased at www.stubhub.com.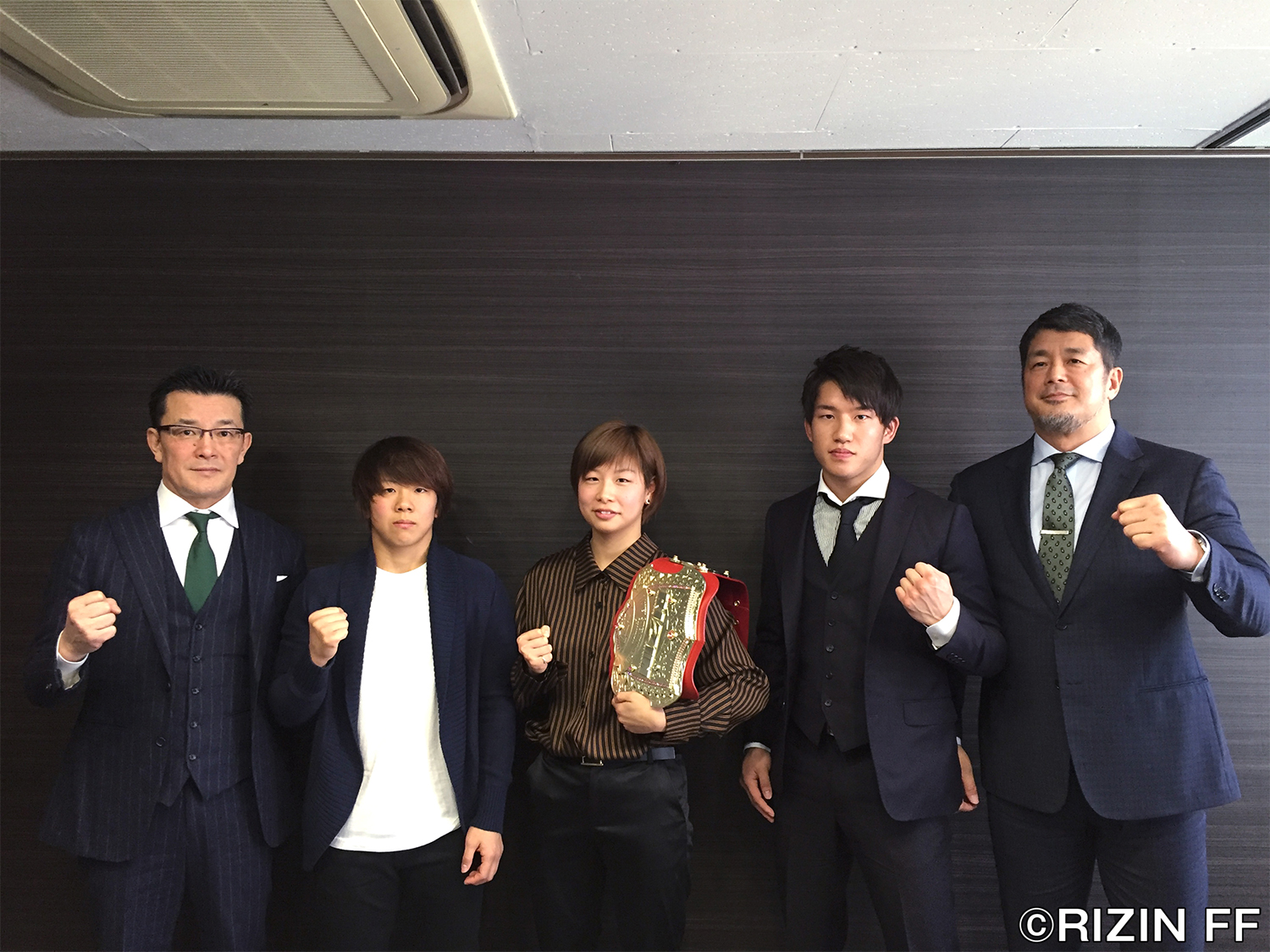 Name:

RIZIN.14

Date:

Dec 31, 2018

Venue:

Saitama Super Arena

Access:

Twitter:

Facebook:

Instagram:

---

Ticket

StubHub

Japanese (JPY)

English (USD)

한국어 (KRW)

https://www.stubhub.co.kr/%EB%9D%BC%EC%9D%B4%EC%A7%84%20%ED%8C%8C%EC%9D%B4%ED%8C%85%20%ED%8E%98%EB%8D%94%EB%A0%88%EC%9D%B4%EC%85%98-rizin-fighting-federation-%ED%8B%B0%EC%BC%93/ca10998

中文 - 简体 (CNY)

Russian (RUB)

Portuguese (BRL)