On Sunday May 6th 2018, RIZIN will be kicking off their first event in Fukuoka which will be headlined by former UFC contenders, Kyoji Horiguchi vs Ian McCall along with RIZIN Super Atom weight Queen Kanna Asakarura taking on Canada's Melissa Karagianis.
TOKYO – On March 8th, RIZIN held a press conference with Chairman Nobuyuki Sakakibara, GM Nobuhiko Takada and Lightweight Yusuke Yachi and announced two additional fights to the fight card for the upcoming event on May 6th in Fukuoka.
Chairman Sakakibara started off the conference by announcing that RIZIN will start selling a Saitama Super Arena 3 event season seats and test out the waters. The season seats will be sold for a significant discount, only able to purchase in Japan for 5 days starting March 8th. "This will be the first time for RIZIN to set up such offer, and this will be a test to see what kind of response we get, which will be put into consideration for the production setup."
General Manager Nobuhiko Takada followed by announcing the additional fights.
Ante Delija (14-3) vs Ricardo Prasel (9-0) 
Yusuke Yachi (19-6) vs Diego Nunes (22-7)
Delija has been extremely successful in the European circuit before a brutal injury during a fight against Marcin Tybura in 2015, which forced him out of completion for over 2 years. The 27 year old Croatian has been Mirko CroCop's main training partner for over a year and is more than ready to make it back into the ring. WALKING TROUBLE, is no stranger to the RIZIN rules, where he utilizes his soccerball kicks in Croatian promotions such as FFC.
Standing at 6' 7", the former soccer player brings a perfect 9-0 to the RIZIN ring. Prasel has finished all of his opponents, mostly by submissions. The 27 year old Brazilian utilizes his long limbs to secure position on the ground and secure crafty submission finishes. Although Prasel most recently captured the Aspera FC Heavyweight title, it is no doubt that Delija will be his biggest test yet, and would have the disadvantage of having to adopt to the RIZIN rules.
Former WEC, UFC, Bellator veteran and journey man used to be touted as one of the greatest prospects coming out of Brazil. With notable wins over Matt Brown, Raphael Assuncao and Manny Gamburyan, he will definitely bring a challenge to the uprising Japanese prospect. The 35 year old is currently on a 3 fight win streak, including his most recent win coming at Light weight.
Yusuke Yachi is coming off of a win against the fan favorite Takanori Gomi in a fight on NYE last year, in an exciting yet emotional brawl which many expected him to beat the veteran with ease. Yachi is
currently riding a 5 fight winning streak and 4 consecutive finishes and looks to extend his run in RIZIN by finishing another veteran of the sport.
During an iterveiw, the 27 year old mentioned "I feel like Gomi san has passed the torch to me last year, and now I feel more obligated to spread the popularity of Japanese MMA. I want to continue to win and create a ridiculous record like Gomi san did, and become recognized not only in Japan, but globally. I know that Diego is a great striker and has flashy moves, but so do I. I think style wise, this fight has nothing but excitement all over it. I would really like to beat a name like Diego, and continue to fight international world class competition. Ultimately, it would be great to be able to fight Conor McGreagor since we are about the same age." Takada jumped in saying "You'll have to win 20 straight fights in a row to call him out"
Sakakibara also mentioned that RIZIN will be putting emphasis on the Heavyweight division, and plans to bring in more new, international heavy weight fighters. In 2018, and hopefully one of them would be suitable to fight Mirko for his retirement fight on NYE.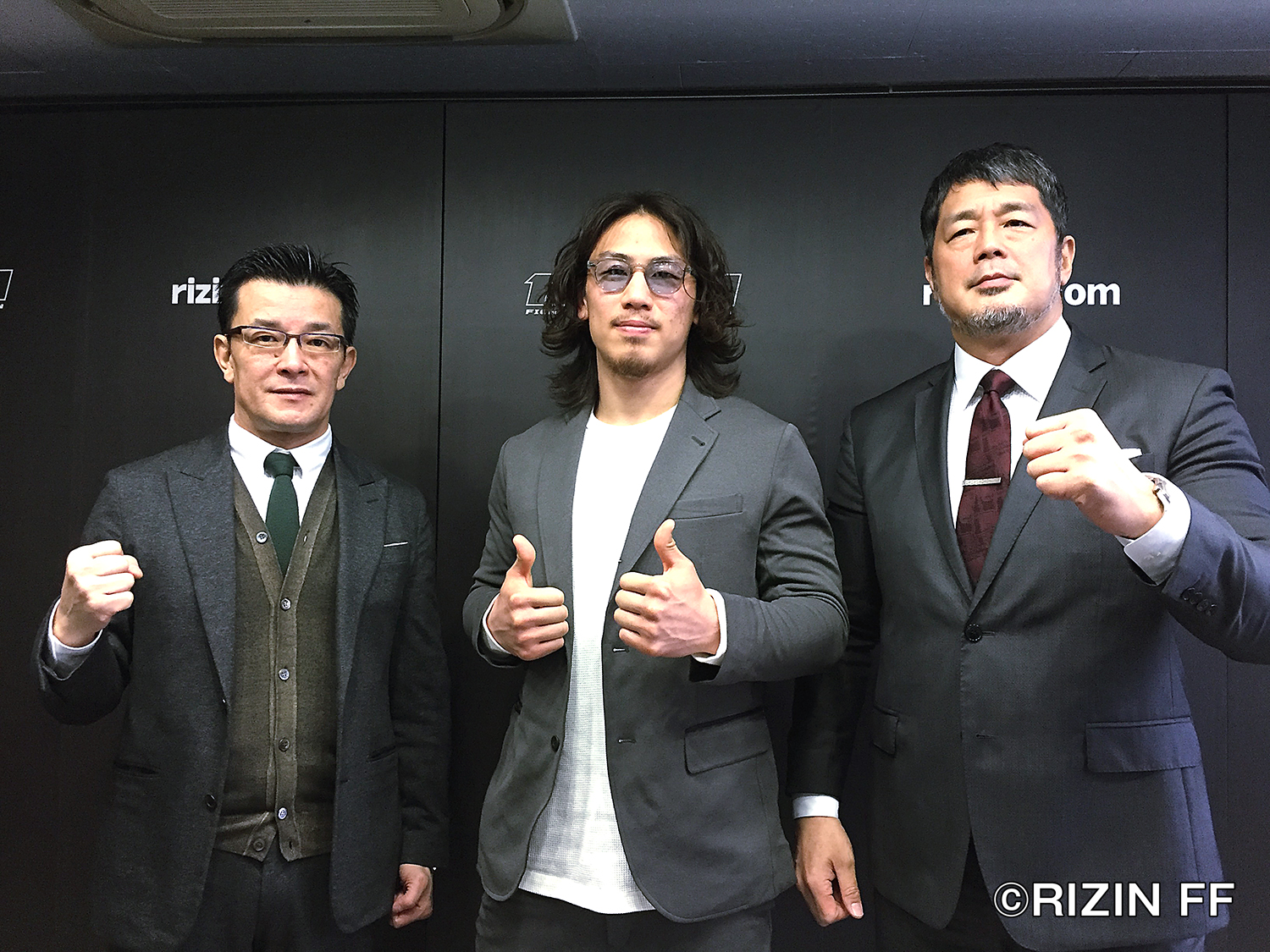 [Confirmed bouts]
-MMA-
Kyoji Horiguchi vs Ian McCall
Kanna Asakura vs Melissa Karagianis
Manel Kape vs Kai Asakura
Weili Zhang vs Kanako Murata
Diego Nunes vs Yusuke Yachi
Ante Delija vs Ricardo Prasel
-Kickboxing-
Tenshin Nasukawa vs TBD
Tomohiro Kitai vs Winner of RISE West tournament on 3/18
Issei Ishii vs Daishin Sakai
The event is scheduled to have a total of 12 fights.
Doors open at 1:30PM with Opening Ceremony at 2:30PM on Sunday May 6th at the Marine Messe Fukuoka. International tickets can be purchased at www.stubhub.com.
Name:

RIZIN.14

Date:

Dec 31, 2018

Venue:

Saitama Super Arena

Access:

Twitter:

Facebook:

Instagram:

---

Ticket

StubHub

Japanese (JPY)

English (USD)

한국어 (KRW)

https://www.stubhub.co.kr/%EB%9D%BC%EC%9D%B4%EC%A7%84%20%ED%8C%8C%EC%9D%B4%ED%8C%85%20%ED%8E%98%EB%8D%94%EB%A0%88%EC%9D%B4%EC%85%98-rizin-fighting-federation-%ED%8B%B0%EC%BC%93/ca10998

中文 - 简体 (CNY)

Russian (RUB)

Portuguese (BRL)