After a successful kickoff into the year of 2018, RIZIN Fighting Federation will be holding their second event, also the first event of 3 back to back events. RIZIN. 11 on July 29th, RIZIN. 12 on August 12th and RIZIN. 13 on September 30th.
TOKYO – On May 16th, RIZIN FF announced their first fight for their upcoming summer event. The rematch between Kyoji Horiguchi and Hiromasa Ogikubo will take place during RIZIN.11 on July 29th 2018 at the Saitama Super Arena.
The fight between World Champion and RIZIN Bantamweight GP king Kyoji Horiguchi (24-2) will be facing Hiromasa Ogikubo (17-3-2) in a 60kg bout scheduled under the RIZIN rules 10 minute x 5 minute round with elbow strikes above the neck. Horiguchi is currently on a 9 fight winning streak, freshly coming off of a 9 second KO win against the very game Ian McCall. The ATT product finished all 4 opponents to win the Bantamweight GP in 2017, and has a perfect 6-0 record ever since joining the RIZIN roster. Hiromasa Ogikubo has made his name known to the western audience after being selected as the TUF 24 cast member. "Hiro" made it to the finals on the US based reality show, but lost a very close decision to the season winner Tim Elliot. The Chiba native is currently riding a 7 fight winning streak (excluding the TUF exhibition bouts) and hasn't lost since March 16th, 2013 where he lost his Shooto world title to his upcoming opponent Kyoji Horiguchi.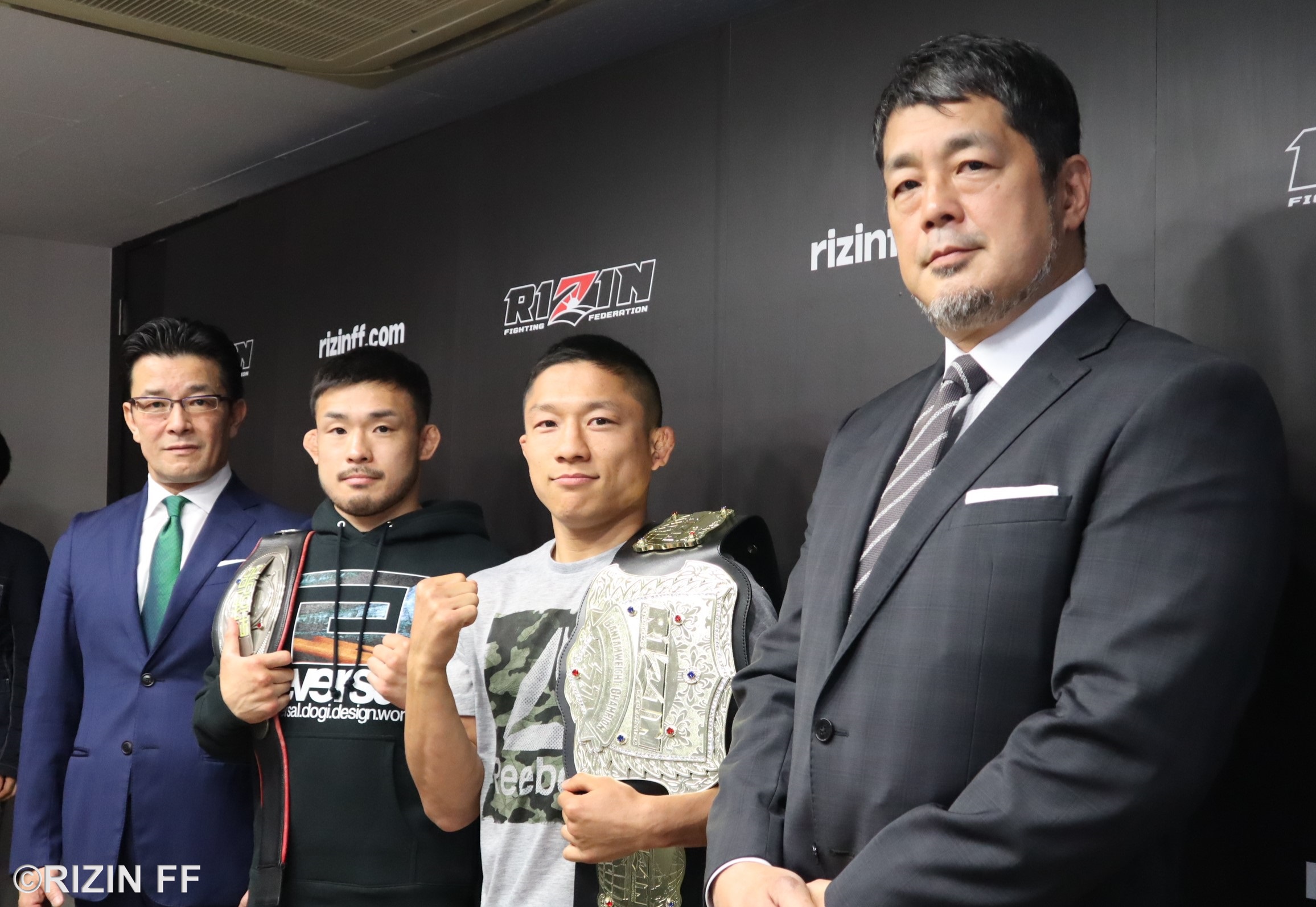 Hiromasa Ogikubo was the reigning Shooto Feather weight (Current Bantamweight) Champion when Kyoji Horiguchi was still a hot prospect. They fought for the world title on March 16, 2018. Horiguchi ended the fight by submitting the superior grappler in 1:35 of round 2. After capturing the prestigious title, Horiguchi had one fight in VTJ and signed with the UFC. Ogikubo on the other hand, moved down to Flyweight and won the VTJ Flyweight tournament by defeating Takeshi Kasugai (14-2-1), Kana Hyatt (13-12) and Czar Sklavos (10-3). The Paraestra Matsudo product later became the 2nd fighter to win Shooto world titles in 2 divisions after submitting Masaaki Sugawara (18-0) to win the Shooto Bantamweight (Current Flyweight) title, which earned him a spot on The Ultimate Fighter season 24 show where he made his name known to the global audience. Despite being a runner up, "Hiro" did not receive a UFC contract and has been eagerly waiting for his time to face top competition.
Horiguchi quotes
"I have been cheering for him when he was on the TUF show. We would eventually be rivals, but when you are competing in a US ran company, it's hard not to root for fighters from the same country. It's like we are in it together."
"Fighting an MMA fight in July before I make my kickboxing debut in September won't affect my training at all. I train all aspects of the fight for MMA fights, kickboxing is included."
"I think rematches are good. I knew that I would be facing some of the fighters I have beat, when I decided to come back to Japan, but I think rematches are good. We get to face each other and see how we have developed as a fighter."
Ogikubo quotes
"I have never forgotten about that moment I lost to Horiguchi for the past 5 years. Everything I have done in the past is to avenge my loss against him."
"Every time Horiguchi fights I hope for his loss. Just an honest opinion."
"Horiguchi always fights with a calm mentality and never changes his facial expression. I want to make him panic and expose his frantic face to the world before I make him tap."
"As a fighter growing up watching PRIDE and the golden era of Japanese MMA, I am very happy to be able to take part in RIZIN, and help make Japanese MMA great once again."
"I have grown tremendously in the past 5 years, have put plenty of experience under my belt. I couldn't have asked for a greater opportunity to fight in such a big platform."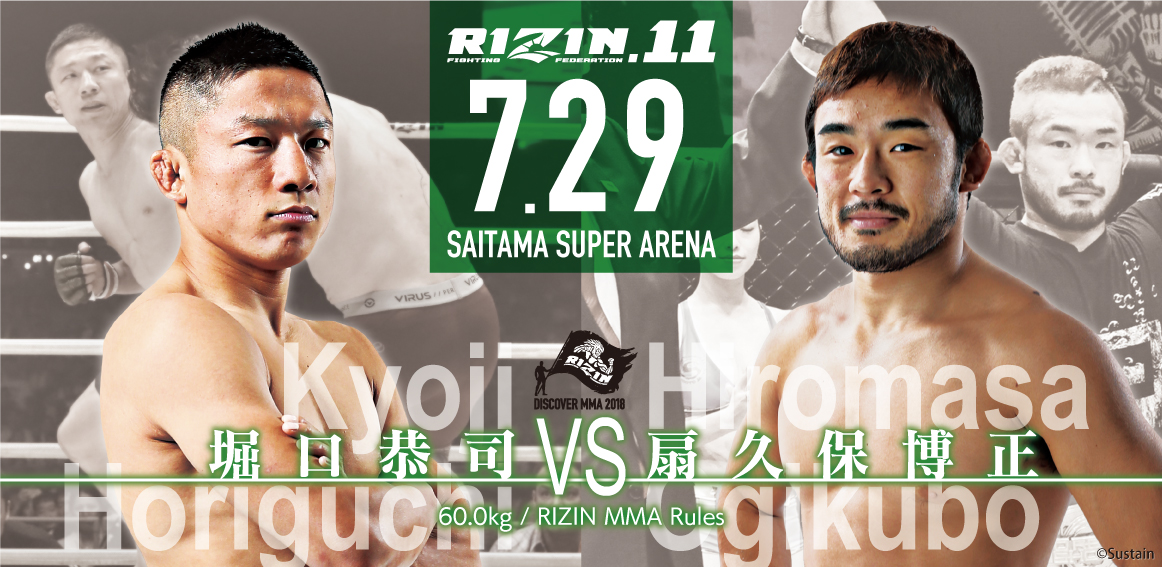 Confirmed fights
Kyoji Horiguchi vs Hiromasa Ogikubo
Mirko Crocop vs TBD
Tenshin Nasukawa vs TBD
Doors open at 1:30PM with Opening Ceremony at3:00PM on Sunday July 29th at the Saitama Super Arena. International tickets can be purchased at www.stubhub.com.
Follow RIZIN FF:
Website – http://www.rizinff.com/en/
Facebook – https://www.facebook.com/rizinfightingfederation/
Twitter – https://twitter.com/rizin_PR
Instagram – https://www.instagram.com/rizin_pr/?hl=ja