Kyoji Horiguchi challenges Tenshin Nasukawa in a kickboxing super fight. Lightweight clash between Daron Cruickshank and Diego Brandao confirmed.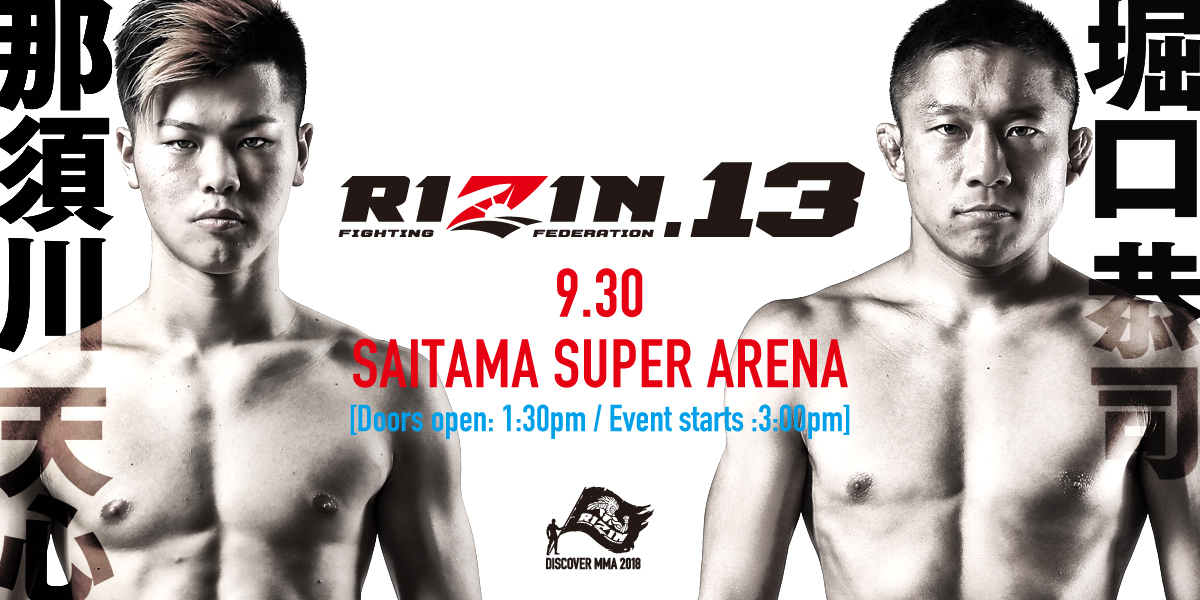 RIZIN.13 will be taking place at the Saitama Super Arena on September 30th. This event will mark the promotion's 4th event in 2018. Chairman Nobuyuki Sakakibara looks to ride the momentum that the previous events have delivered in the past couple months and announced 11 fights out of 12 scheduled fights for the September 30th event.
TOKYO – On August 24th RIZIN FIGHTING FEDERATION held a press conference. The promotion announced 11 fights out of 12 scheduled fights. UFC veteran Daron Cruickshank (20-10-1NC)  has somewhat earned himself the spot as the gatekeeper in RIZIN's Light weight division. This will be his 3rd appearance in RIZIN this year riding a 2 fight winning streak, both with vicious stoppages against RIZIN newcomers. But this fight, the Detroit Superstar will be facing a well experienced veteran and equally violent Diego Brandao (23-12). Brandao made his promotional debut on the RIZIN.11 event, viciously pounding out veteran Satoru Kitaoka in 90 seconds.
RIZIN's Light Heavy weight prospect Jiri Prochazka (21-3-1) will be facing WSOF / PFL veteran Jake Heun (11-7). The Czech Native was scheduled to face the legendary Mirko Crocop in RIZIN.11, however the fight got rescheduled due to Mirko injuring his knee. "Denisa" faced Jungle Light Heavy weight champion Bruno Cappelozza instead and finished the Brazilian with punches at1:23 into the first round. The WSOF veteran and currently PFL roster fighter is currently coming off of a KO loss against Alex Nicholson.
Mirko Crocop (36-11-2-1NC) will be making his comeback fight after a severe knee injury which forced him to pull out of a Bellator fight in May and RIZIN fight in July. The legendary fighter has mentioned that his retirement fight will be on RIZIN's NYE event, and looks to surpass his uprising foe Roque Martinez (13-4-2). The current DEEP Megaton champion is currently riding an 8 fight winning streak and has been undefeated for the past 5 years. This will be the Guamanian's third appearance in the RIZIN ring and the second time going against a K-1 legend.
RIZIN's biggest announcement was the super fight between the undefeated kickboxing Phenom and RIZIN 2017 -59kg Kickboxing GP champion Tenshin Nasukawa (4-0 MMA / 25-0 KB) and RIZIN 2017 Bantam weight GP champion Kyoji Horiguchi (25-2 MMA / 0-0 KB) under kickboxing rules. Nasukawa who just turned 20 years old, has been the highest praised kickboxer that Japan has seen in decades while 27 year old Horiguchi has been unstoppable in his division in MM, who is currently riding a 10 fight winning streak.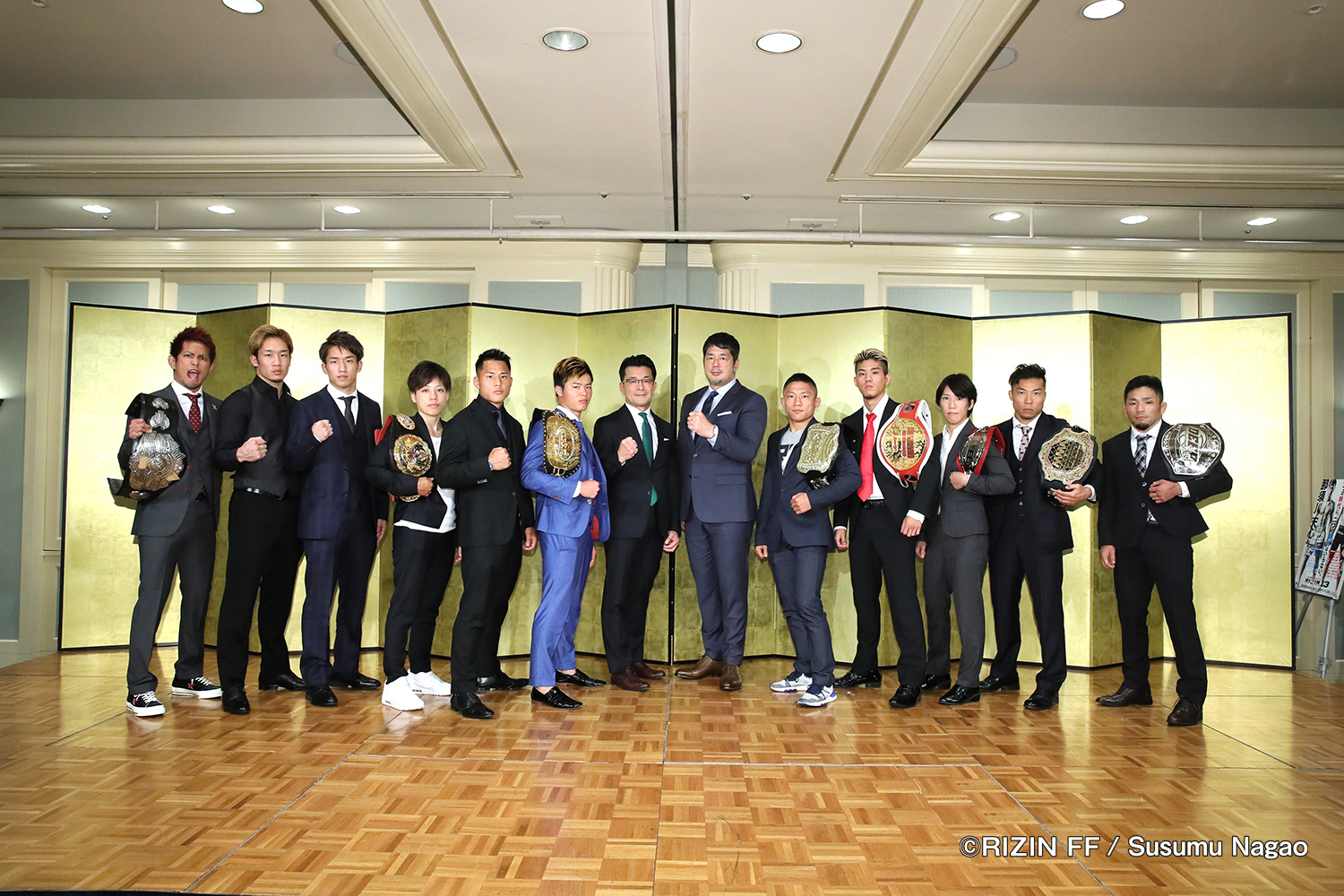 [Fighter quotes]
Daron Cruickshank
"This is really a high caliber fight for the fans. Two experienced world fighters going head to head. I am going to put on a great show for the fans and take out another Brazilian."
Diego Brandao
"It's always an honor to fight in Japan I get more energy for the fight with all of the support from the fans. This is going to be a good one, Daron is a very experienced fighter and he is good at certain things, and I am good at certain things. I look forward to see who the real King in Japan is."
Jiri Prochazka
"I am very excited about my next opponent. He is a heavy hitting and aggressive fighter but I would like to show my evolvement since my last fight. I am glad to see Mirko making his comeback fight on the same card. Hopefully we both win and can fight on NYE together as well."
Jake Heun
"Fighting in Saitama super arena under rizin rules is truly a dream come true. I have wanted to compete in Japan since before I ever began MMA. I am looking forward to putting on a great show for the Japanese crowd, and with an opponent of Jiri's caliber, this should be a hell of a night"
Miyuu Yamamoto
"Thank you very much for supporting me on RIZIN.11. I am back in Guam and training. Andy Nguyen is a very important rematch for me, but I would like to show my evolvement as a MMA fighter. I have yet to win a fight the way I want, so I hope to perform perfectly on September 30th."
Andy Nguyen
"It's been fun to watch Miyuu grow since Day1. U guys are going to watch some Cougars fight hard on Sept 30!"
Yusaku Nakamura
"I am very happy to be able to fight under MMA rules. I will make sure to beat my tough opponent, and I would like to face Kai Asakura on NYE."
Manel Kape
"First of all I am very excited to be fighting again, I am already feeling the adrenaline of the fight. My opponent is interesting, he is a tough fighter, but like always I am not worried, because I am never concerned about my opponents. I am in a best shape of my life, I feel my evolution day by day, so I look forward in testing myself! In September 30 Nakamura will be facing a ghost, he will never see my blows! He will feel all my anger about my last fight."
Mikuru Asakura
"I am happy to get the offer so soon, but I was hoping for a bigger name. Its disappointed in getting a no name who is tough as nails. For this event Asakura brothers will be facing international competition but
we've always had the attitude of don't take Japan lightly. So we do plan to beat the crap out of our opponents on September 30th."
Karshyga Dauitbek
"I'm very honored to be the first Kazakh to represent my country in prestigious RIZIN event. I will do everything to raise my countries flag high in Japan and let Japanese fans know about Kazakh warrior spirit. My opponent is very high level striker and I can't wait to test myself against him. It will be battle of nomad and samurai, ring will show who is stronger"
Kai Asakura
"I apologize for not being able to fight in July. I was very frustrating only being able to watch the fights that night. I plan to explode my frustration in September. My opponent is a very talented striker so I know this is going to be a great fight."
Topnoi Tiger Muay Thai
"I am really really excited to fight for the Japanese again. Do not wanna give away too much but I'm confident. I'm excited to fight the best Japanese fighter with the elbow rule set. I'm not scared. Asakura has shown he's not scared. Thank you to the Japanese fans for wanting to see me fight again."
Mitsuhisa Sunabe
"I was thinking that Straw weights would never get an opportunity on the big stage, but I am very grateful to get such a great opportunity against a great fighter. I want to prove that Straw weights can put on exciting and appealing fights."
Haruo Ochi
"I would like to thank everybody who worked on getting me on such a prestigious event. I am putting everything on the line for this fight. I plan to give my DEEP belt to Sunabe if he beats me, so I hope I can get the Pancrase belt if I beat him."
Mina Kurobe
"I am 41 years old but still a rookie and freshman in RIZIN. Hamasaki has a charming face and is very cute, but I plan to beat her face in the fight, and looking forward in Sakakibara introducing me a boyfriend."
Ayaka Hamasaki
"Kurobe is a fighter who has been competing at Japan's top level for the longest time. But I have been competing at the world's top level for a long time. I plan to show the difference during the fight and stop her from getting a new boyfriend."
Mirko Crocop
"Hello RIZIN fans. I am happy to be able to announce that I will be fighting on September 30th at the Saitama Super Arena against Roque Martinez. I had a very bad injury 4 months ago but all of that is behind me. Please come to Saitama to watch my fight, and enjoy the show."
Roque Martinez
"I am honored to be able to fight a legendary fighter who has created history. But I have my pride as the DEEP Megaton champion so I will use this opportunity to change history. I hope to give him the retirement fight early."
Taiga
"I am very happy to be able to sit here for a fight announcement. There has been some issues and I wasn't able to fight for a while. If it wasn't for everybody's support, I wouldn't be here today. I would like to thank everybody who supports me."
Kento Haraguchi
"I am honored to be able to face one of my favorite fighters from K-1. I will fight him with full respect and beat him up and knock him out."
Kyoji Horiguchi
"I am very excited to be able to finally announce this. Details on the rules aren't set yet, but I would like to fight him under interesting rules like 1 round 15 minutes.
Tenshi Nasukawa
"I am also very excited to be able to fight Horiguchi at this time. I am excited to be able to announce a fight that the world will be interested in. He is a fighter that I respect and have looked up to. But I will make sure to knock him out."
General Manager Nobuhiko Takada added that the originally planned 8 man Kickboxing tournament will not be taking place and there will be a 4 man 1 night tournament on NYE. "Nasukawa vs Horiguchi was the fight that everybody wanted to see on NYE for the finals. But anything could happen during a tournament, and the fight may not happen while the hype is there. So Horiguchi suggested that why not just put a super fight in September, we pitched to Nasukawa and here we are." Taiga vs Haraguchi fight will also be a fight where the winner will most likely be considered in the 4 man tournament.
[Confirmed bouts]
-MMA-
Tenshin Nasukawa vs Kyoji Horiguchi [Kick Boxing]
Taiga vs Kento Haraguchi [Kick Boxing]
Ayaka Hamasaki vs Mina Kurobe
Kai Asakura vs Topnoi Tiger Muay Thai
Mikuru Asakura vs Karshyga Dauitbek
Andy Nguyen vs Miyuu Yamamoto
Daron Cruickshank vs Diego Brandao
Mitsuhisa Sunabe vs Haruo Ochi
Yusaku Nakamura vs Manel Kape
Mirko Crocop vs Roque Martinez
Jiri Prochazka vs Jake Heun
Doors open at 1:30PM with Opening Ceremony at 3:00PM on Sunday September 30th 2018 at the Saitama Super Arena. International tickets can be purchased at www.stubhub.com starting August 26th.
Follow RIZIN FF:
Website – http://www.rizinff.com/en/
Facebook – https://www.facebook.com/rizinfightingfederation/
Twitter – https://twitter.com/rizin_PR
Instagram – https://www.instagram.com/rizin_pr/?hl=ja