TOKYO –December 19th, – RIZIN Fighting Federation held an open workout for the media with the Japanese Quarter Finalists for the Bantamweight GP 2017.
Takafumi Otsuka focused on light grappling for the media, and explained that it was an "easier" option than to hit pads or show his striking.
The media who showed got nothing new to see from Otsuka, who claims to have been sparring with mainly kickboxers to improve his striking. "I have been sparring with kickboxers such as Krush -67kg Champion Keita Makihira, Yutaro Yamauchi and Takumi Tosaka along with his teammates from HALEO TOP TEAM. They all spar hard, and throw tons of kicks, so it was a lot to adapt to." "My opponent (Khalid Taha) looks like a monster in terms of his physique, and I know that he hits hard. He showed that he is not shy in fully utilizing the RIZIN rules (soccer ball kicks and knees to the head on the ground), but it's more about focusing on myself than my opponent."
The current DEEP Champion has been undefeated in 6 fights, ever since he lost to Ishiwatari by TKO on NYE of 2014. If both Otsuka and Ishiwatari win on December 29th, they will be set to fight for the Semi Finals. "Honestly I haven't been thinking about the rematch at all. I'm sure I will be thinking about it like crazy if I win on the 29th, but right now I am focused on getting past my upcoming opponent."
"I've always wanted to get back to the big show, but now that I'm back, I don't feel anything special, it's just another fight for me. Despite the outcome, I hope I can eat lots of good food on New Year's Day."
The Bantamweight Quarter Finals will take place on December 29th, and the winners will advance to the Semi Finals and Finals will be held 2 days later on New Year's Eve. The Grand prize money for this tournament is 15,000,000 Japanese Yen, 2nd place 3,000,000 Japanese Yen, and two, 3rd place contestants will receive 1,000,000 Japanese Yen.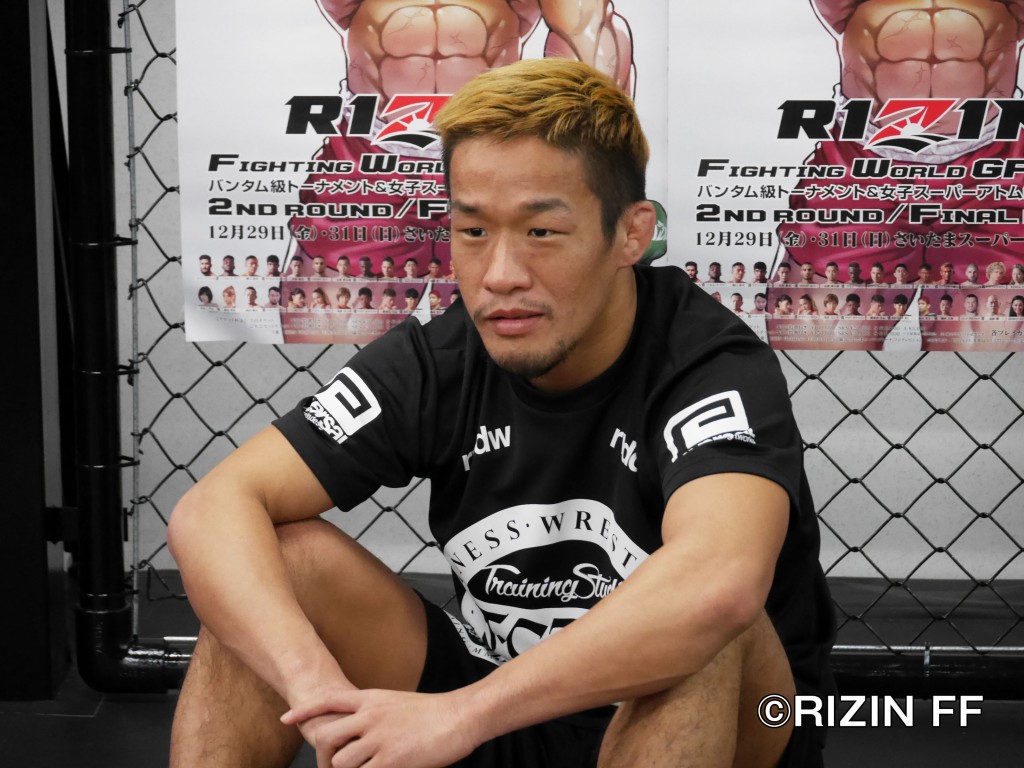 Confirmed fights:
[December 29th]
< Bantamweight GP Quarter Finals >
Ian McCall vs Manel Kape
Kyoji Horiguchi vs Gabriel Oliveira
Khalid Taha vs Takafumi Otsuka
Kevin Petshi vs Shintaro Ishiwatari
< Bantamweight GP reserve bout >
Anthony Birchak vs Jae Hoon Moon
< Super Fight >
Jiri Prochazka vs Karl Albrektsson
KING Reina vs Cindy Dandois
Kizaemon Saiga vs Kai Asakura
Gabi Garcia vs Shinobu Kandori
Satoru Kitaoka vs Kiichi Kunimoto
Hiroyuki Takaya vs Baataryn Azjavkhaln
Shizuka Sugiyama vs Kana Watanabe
[December 31st]
< Bantamweight GP Semi Finals >
TBD vs TBD
TBD vs TBD
< Bantamweight GP Finals >
TBD vs TBD
< Women's Super-Atom Weight GP Semi Finals >
RENA vs Irene Rivera
Maria Oliveira vs Kanna Asakura
< Women's Super-Atom Weight GP Finals >
TBD vs TBD
< Cygames presents RIZIN Kick boxing tournament Semi Finals >
Yamato Fujita vs Mitsuhisa Sunabe
Tenshin Nasukawa vs Yuta Hamamoto
< Cygames presents RIZIN Kick boxing tournament Finals>
TBD vs TBD
< Super fight >
Mirko Crocop vs Tsuyoshi Kosaka
Shinju Auclair vs Chelsea Lagrasse
Takanori Gomi vs Yusuke Yachi